A selection of our global partners: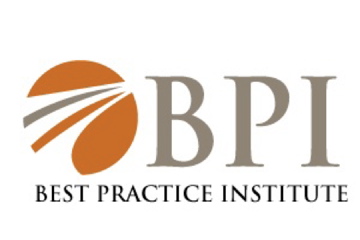 Best Practice Institute
Best Practice Institute is an award-winning leadership development center, think tank, peer network, research institute and online learning portal with corporate and individual members around the world. Corporate members include Walmart, Bank of America, Pfizer, Hilton Hotels Worldwide, Scripps and many more of the world's top corporations.
BPI is based in West Palm Beach, FL, and is on the web at: http://www.bestpracticeinstitute.org.
Center for Community-Based & Nonprofit Organizations at Austin Community College (CCBNO)
The Center for Community-Based & Nonprofit Organizations at Austin Community College (CCBNO) assists community-based and nonprofit organizations to be more effective by helping strengthen their organizational capacity. It promotes professional and volunteer leadership learning through its learning opportunities, Board Development workshops, publications, website, resource libraries, comprehensive database of nonprofits, electronic forum, partnerships and various other services.
A large percentage of all Center learning opportunities are made available without charge given the Center's egalitarian approach to building the community's capacity to address challenges by strengthening the nonprofit sector.
For more information, please visit nonprofitaustin.org
CoachSource
CoachSource is the world's leading network of experienced executive coaches and the #1 source of executive coaching services worldwide. Providing turnkey executive coaching solutions worldwide, CoachSource is a one-stop shop for developing, implementing, measuring, and managing executive coaching programs. CoachSource, LLC is a network of more than 900 professional executive coaches in 44 countries worldwide. The firm's coaches and engagement managers typically have 10-30+ years of industry experience, and many are trained in Marshall Goldsmith's methods. CoachSource clients include many Fortune 500 corporations, and the firm is a primary sponsor of the Institute of Coaching at the Harvard Medical School.
For more information, please visit coachsource.com
Cultural Detective
Cultural Detective® is a respected, proven process for increasing productivity and strengthening relationships across cultures. A leading multinational credits Cultural Detective for a 30% increase in global customer satisfaction. This highly effective toolset is available via very affordable online subscription or in PDF format for printing. It is the world's only publicly available process-based method for improving cross-cultural collaboration and developing intercultural competence, the collaboration of over 120 experts worldwide.
For more information, please visit culturaldetective.com
Multicultural Refugee Coalition
The Multicultural Refugee Coalition (MRC) is Austin's only long-term support network for refugees, offering programs sensitive to refugees' experiences and challenges, and designed to assist them toward long-term economic well-being. MRC's Pathways to Self-Sufficiency programs include classes in career planning, ESL, ABE/GED, and computer literacy. Our Community Development programs include a sewing lab, soccer team, community garden, and children's educational and enrichment program.  MRC is on a mission to empower refugees settled to our community through education, community and reconciliation.
For more information, please visit mrcaustin.org
SageVision
SageVision is a leadership consultancy, registered in Shanghai China. It is a network of executive coaches and consultants dedicated to increasing leadership capacity for social entrepreneurship and innovation, in conjunction with organizational and community resilience. Recent work includes
Fish Garden, addressing food-water-energy security and resiliency, and integral community development.
For more information, please visit sagevision.com.cn