A selection of our highly experienced and competent associates, who can ensure integrity, quality and consistency in our customized services in any location that we deliver them around the world:
Rossina Gil
Rossina Gil is a Leadership & Organization Development Practitioner.  She specializes in Global Business Acumen, Executive Coaching, and Leadership Development.  Her purpose is to broaden understanding and increase productivity through her facilitation and analytical skills.  Described as deep and empathetic, Rossina draws on her experience living and working overseas in Spain, Denmark, and Colombia to practice inclusion and offer a holistic perspective.  She personally financed her M.S. in Organization Development from Pepperdine University, and M.A. in International Studies from the Claremont Graduate University.  She is the author of The Corporate Looking Glass: Using Culture for Your Competitive Advantage.  Originally a Californian native, Rossina resides in Nashville, Tennessee, with her husband, two sons, and mischievous dog Woody.
Maya Hu-Chan
Maya Hu-Chan is an international management consultant, executive coach, and author. She specializes in global leadership, cross-cultural business skills and executive coaching. Since 1988, she has trained and coached thousands of leaders in "Global Fortune 500" companies in the Americas, Asia, and Europe. Harvard Business School has chosen her book "Global Leadership: The Next Generation" to be one of their Working Knowledge recommended books. She is also a contributing author of eight business and leadership books.
Originally from Taiwan and a US resident since 1985, Maya is fluent in English and Mandarin Chinese. She earned her B.A. in Journalism from National Chengchi University in Taiwan, and Master's degree in communications from University of Pennsylvania. Maya is also a "Tiger Mom," raising teenage triplets while she travels the globe 50% of her time to serve clients all over the world.
Lobna "Luby" Ismail
Lobna "Luby" Ismail, is the founder and president of Connecting Cultures, LLC, www.connecting-cultures.net. She is a training specialist with over twenty years of experience in the areas of cross-cultural communication, cultural competence, Arab and American cultures, Islamic awareness and religious diversity.
Luby is conducting training on building a disAbility inclusive workplace and the impact of unconscious bias on ourselves and organizations. She also specializes in Training and Publications on US, Arab Cultures., Islam and the Middle East. Accomplished with both academic and practical experience leveraged from the CEO who is an intercultural trainer. Luby provides in-depth and credible briefings and trainings based on intercultural models to address the complexities of communication across cultures. She is an Intercultural Development Inventory Certified trainer and coach.
Lynn King
Lynn King is founder and managing director of SageVision, a leadership consultancy registered in Shanghai China. Lynn is committed to socially responsible leadership development and is currently President of Net Impact Shanghai and Global Asia Fellow for Net Impact, a founding cohort participant of THNK global creative innovators, and a member of StartUp Leadership Program (SLP)'s first Shanghai chapter. Lynn holds a Master's Degree in Organization Development from The Fielding Institute (Santa Barbara, CA); a Post-Graduate Certificate in Organization and Systems Development (The Gestalt Institute of Cleveland, OH); and a Bachelor's Degree in Visual Art, Art History, and East Asian Studies from Princeton University (Princeton, NJ).
Kelli McLoud-Schingen
Kelli is a storyteller committed to creating environments where everyone has space to tell their story and how it has shaped their worldview. She was born on the South Side of Chicago and holds a BA in Communications and a Master's in Cross cultural Studies.  She is also an actor and director.  Kelli lives in Tulsa, Ok and is happily married and raising 2 bi-racial children aged 8 and 12.
Kelli's facilitation style guides participants through a discovery of self and culture, stimulating self-respect and respect of others while bringing about healing and a greater understanding of difference and what role that difference plays in daily communication
Her main areas of focus are: The Power of Story to connect across cultures, Cross, Cultural Communication, Healing Racism, Inclusive Leadership, and Multicultural Teambuilding.
Rossana Miranda-Johnston
Rossana was born and raised in Mexico and moved to the USA for her graduate program in Intercultural Management. She has lived in England, Israel, Portugal and Italy. Based in the USA, for over 15 years she has been delivering leadership development training for corporations in Latin America, Canada, the USA and some courtiers in Europe. Her areas of focus are: Effective Communication, Delegation, Trust Building and Maintenance, Leader as Coach, Cultural Competence, etc.
Rossana believes that every person has the responsibility to first look at oneself and make efforts to improve one's own personal outlook of life and his/her impact on the work environment. The practice of coaching has given Rossana the insights and tools to explore an individual's deep vision of the world and support the development of better alternatives at personal and/or professional levels.
Alan Richter
Alan has consulted to corporations and organizations for many years in multiple capacities, primarily in the areas of leadership, values, culture and change. He has provided strategic consulting and facilitation and program delivery for varied organizations globally, and has been involved in innovative instructional product development. He is a recognized pioneer in the diversity field.
Alan loves to create new tools; some examples are: The Global Diversity Game© — an award winning training tool, the Coaching Development Assessment© – a developmental tool for leader coaches and executive coaches, The Global Diversity Survey© — a self-assessment tool which measures how we deal with difference, The Global Leadership Survey© – a leadership style self-assessment tool, The Global Diversity & Inclusion Benchmarks©  and The Global Ethics & Integrity Benchmarks©— which helps organizations measure their Diversity and Ethics initiatives against global best practices. He also co-produced Global Words for Global Leaders© — an inspirational leadership video, and co-authored Lost in Cyberspace© — a team-decision based tool that explores the nature of global virtual teams.
He is based in New York City and has worked in Africa, Asia and Europe, in addition to the Americas. He holds an M.A. and a B.A.B.Sc. from the University of Cape Town, and a Ph.D. in Philosophy from Birkbeck College, London University.
Jeremy Solomons
Jeremy is an engaged world citizen, who was born and educated in England and has lived in eight countries on three continents. He worked full time for six multinational organizations before going independent 25 years ago. He has lived in Austin, Texas for the last 16 years and has a 19-year-old daughter, Emma, studying design at Texas State.
Jeremy's deep passion and overarching mission are to coach and train current and future leaders to connect and communicate effectively across all cultures – geographical, organizational, professional and individual. His main areas of focus are: Career/Life Planning, Creative and Whole-Brain Thinking, Cultural Excellence, Difficult Conversations, Diverse and Dispersed Teams, Performance Feedback, Post-Merger Integration and Synergy, Strategic Planning and Well-Dressed Presenting and Naked Facilitating
Lillian Tsai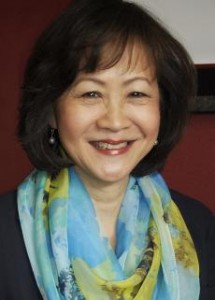 Born and raised in Malaysian Borneo, Lillian reinvented herself 14 years ago after a long high tech career and an expatriate assignment  into a trainer, coach, facilitator and consultant specializing in diversity, equity and inclusion and intercultural communications. Based in Portland, Oregon, Lillian has trained and consulted with a plethora of organizations around the world, from academia to government, aerospace, manufacturing, technology, law enforcement, healthcare, oil, transportation, travel and sportswear. In addition to diversity, equity and inclusion, she specializes in cross-cultural competency workshops on China, Malaysia, Singapore, and the USA.  
She is the mother of two adult children and a proud first time grandmother. 
Monika de Waal
Monika de Waal is a management consultant, working for more than 20 years in the field of personal effectiveness, leadership, change management and team development, often within an intercultural setting. Much of her focus is on creating opportunities for dialogue in complex organizations undergoing change. Tracking and changing mind bugs in mental models from which leaders promote their vision and implementation is always part of her approach.
Monika was born in the Netherlands, continued (part of) her youth in Pakistan and developed an interest in cultures and diversity. Monika has Academic Degrees in Organisational Development and Education, and an MBA. She is working on her thesis about fusion leadership and third culture kids.
Rita Wuebbeler
Rita is a bi-cultural, bi-lingual facilitator, consultant and coach supporting leaders and members of global organizations and global virtual teams in reaching their highest performance potential. She conducts cultural awareness programs for groups and individuals aimed at increasing their cultural competency in a global business environment as well as workshops on Defining and Defeating Unconscious Bias and Creating Inclusive Work Environments.
Rita is a Senior Facilitator with Personal Leadership Seminars, a Certified Integral Coach holding and a Qualified Administrator for the Intercultural Development Inventory (IDI). A native German with a Master's Degree in Applied Linguistics from Mainz University, Germany, Rita has lived and worked in Germany, England, Spain, Luxembourg, Canada and the US and is currently based in Atlanta, GA.