March 21, 2019
Final Austin Blog
by Jeremy Solomons
This will be my last blog from the USA on my last official workday in Austin, Texas where I have lived, worked and raised my daughter for the last 19 years. At the end of next week, I will be relocating lock, stock and kitty to Kigali in Rwanda for an undetermined period. Why Rwanda? Why now? Please read on …
A CHANCE ENCOUNTER
One hot Summer's evening in 2015 I attended an international dinner at my good friend Julie's house in South Austin. There I met a woman named Lauren Everitt, who told me that she did social media for a women's university in the East African country of Rwanda.
Like many people outside Africa, I had watched "Hotel Rwanda", the Hollywood version of the horrific genocide of 1994; I had also watched "Gorillas in the Mist", the Hollywood biopic of Dian Fossey, who studied gorillas in the volcanic forests on the border of what is now DR Congo; and I had heard that Rwanda now boasted the most women in parliament of any country in the world. This number has just gone up to 54 out of 80 or 67.5%. Nearly triple the number in the USA.
So when Lauren told me about the Akilah Institute for Women – https://www.akilahinstitute.org– I was immediately intrigued about their story within the context of a rapidly changing, diversifying society. I also began thinking about going over to Africa for the first time and finding out more about what they were doing to educate and empower young women in Rwanda and beyond.
Natasha Sukiranya and her colleagues at Akilah were very open, gracious and welcoming to me and just over a year later they invited me to visit the main campus in Kigali, learn more about Akilah and gender equity in Rwanda and do some volunteer communication training and leadership coaching for Akilah's admin staff, faculty and students.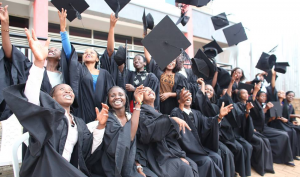 While I was there, I also got to visit the astonishing museum at the Kigali Genocide Memorial and trek up to see the gorillas at the Volcanoes National Park on the Congolese border.
While I was in Kigali that first time, I also talked with many locals and expats and as I have written before, I was very impressed by what Rwanda has done to recover from the genocide – which killed about 800,000 people in three months – unify the bitterly divided country and recreate a sense of common national identity. Rwanda is far from perfect but President Kagame and his government have done a lot to spread peace, prosperity and stability throughout this landlocked nation, which now contains more than 11 million people.
As such, I could not wait to return but it took another two years before I could get back there in October 2018. This time I did not travel there as just a tourist and a volunteer. I was now exploring Kigali as a possible place to live and work. The second visit was even better than the first and it was definitely a place I would happily move to.
LEAVING AUSTIN
But why would I even think of leaving Austin, Texas and USA after such a long time?
Like most major work/life decisions, it was for both professional and personal reasons.
I love what I do in terms of independent coaching, facilitating and training in Leadership Development, Inclusive Teams, Gender Equity and Difficult Conversations in the academic, business, government and non-profit sectors in Austin and beyond.
But after 27 years in DC, Santa Fe, Prescott (AZ) and here in Austin, I had become a bit stale. I needed a new challenge for what I hope will be the next third of my life. I will be 60 in May and my Dad lived to 95. Even my chain-smoking mother made it to 81.
In addition, my beloved daughter Emma will be graduating next year and embarking on her graphic design career. I am not in a long-term personal relationship. And I really need some distance from the ugly, hand-to-hand political combat between Donald, Nancy and Chuck and others in Washington, DC.
FUTURE PLANS
As for the future, I already have some exciting new freelance work with the World Bank and UNDP in Kigali in late April and I hope to be partnering more closely with the Akilah Institute for Women, the Kigali Genocide Memorial and the Rwandan Management Institute, amongst others.
I also plan to expand my professional outreach to my own growing network in Rwanda and across Africa but I will certainly not be out of reach for any of you (groan).
I am still planning to do virtual work – such as research, virtual coaching, and webinars – from Kigali. My first global webinar from there is booked for mid-June.
I will also be available to fly around Africa, the Middle East and maybe Europe and South Asia to do contract work for existing North American and West European clients. My first such gig might be in early May in Nigeria.
And I am intending to return to the USA and Europe for extended stays once or twice a year to service existing clients and see family and friends. Probably during Rwanda's rainy seasons in March/April and October/November. My first such trip to New York, Austin and Atlanta is planned for early October.
And of course, if you want to come out to East Africa for work or pleasure, I would be happy to help you plan your trip and even host you in Kigali.
So au revoir for now but not farewell!
Cheers, Jeremy